Breakfast at Birdsong B&B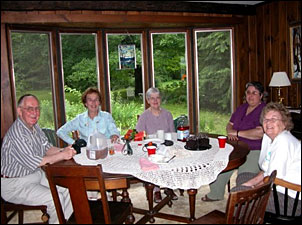 Good morning! We offer a hearty breakfast at a time that is convenient to you. Normally breakfast will be served in the living room at the table overlooking the garden, but we are also happy to set up a small table for you on the deck or you can have 'breakfast in bed' with a small breakfast table set up in your room. (Please let us know the night before if you prefer one of the latter options.)
Please note, this menu is to give you a sense of what we will be serving rather than to offer individual selections. If you would like an entirely vegetarian meal, please let us know and we will be happy to provide that, possibly substituting potato pancakes or hash browns for the meat portion. If you have allergies to particular foods or other medical needs that dictate a particular diet, please let us know as soon as possible.
---
Our breakfasts generally consist of:
Bacon or Cooked Ham*
Homemade baked bread (banana or pumpkin), muffins, pancakes or waffles
Choice of cold cereal (or sometimes toast with jam or marmalade)
Fresh fruit (depending on what fruit is in season, often cantaloupe, papaya, watermelon, or fruit salad)
For beverages, we will provide you with:
Fresh brewed coffee or tea (as early as possible so you can have it even before breakfast)
Juice (orange or some other type of fruit juice)
Option of regular milk (2%) or soy milk, if you prefer

We hope you enjoy our breakfast and the peaceful view of nature as you eat.
Have a wonderful day!