Birdsong B&B is perfect for families!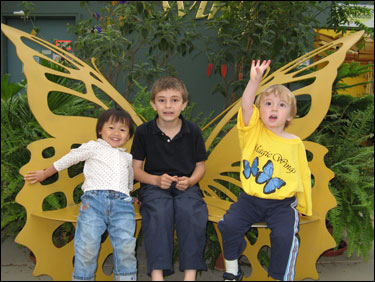 We welcome children and can provide you with plenty of kid equipment while you're here including:
a stroller

pack-and-play

crib
high chair or booster
nightlights for the rooms
endless children's books and toys to play with
toddler-size playground equipment in the backyard (small sand box, seesaw, jungle gym and inflatable wading pool on hot days)
The children will love running around in the private, grassy backyard and watching the many birds that come to visit our bird feeders — cardinals, blue jays, sparrows and even a wild turkey (named "Tom Turkey" by our son). Children also enjoy looking out the window at the horses and goats in the pasture across the street at the neighboring farm.
As part of the nightly rate, we offer a guided nature walk on one of the nearby trails. Our son loves the "bridges trails" that have many little walking bridges. One of our favorite bridges trails leads to a farm that has a llama, a couple goats, a sheep, chickens and a duck pond. Another option is the Rail Trail, a state park that consists of a paved path extending many miles through forests, meadows and wetlands. We enjoy teaching children about the signs of beavers, from the many beaver downed trees, the beaver dam, the beaver lodge where they live and occasionally a glimpse of the actual beavers themselves when they come out at dusk. We also teach children about some of the local birds and wild flowers.
For an additional fee, we will also offer babysitting for your children (either we would be the babysitters since we're home with our toddler in the evening anyway, or we would arrange for one of the mature neighborhood teenagers who do babysitting in the area to come). If you want to explore on your own, we provide picnic lunches for an additional fee. We're also happy to give you information about all the kid-friendly restaurants we've found in the area.
One of the best parts of visiting Amherst is the number of great attractions for children. For more information, we invite you to visit the following websites:
FAMILY ATTRACTIONS IN THE AREA
Within five minutes of Birdsong B&B:
• Eric Carle Museum of Picture Book Art. Has story-telling, kids films, plays, an art room, a library (with comfortable couches, toys and puzzles), scavenger hunts for kids to find things in the artwork displayed in the galleries, and a phenomenal bookstore of children's books. We are members here and love this place!

• Hitchcock Center for the Environment. Has storytelling, nature walks, a great library of nature books, stuffed (ie, formerly real) animals and birds on display, a pet turtle named Speedy, and great boardwalks leading to a frog pond. We are members here and love this place too!

• Flayvors of Cook Farm. The best homemade ice cream made by a working dairy farm that you can visit next door.

• The dinosaur museum (otherwise known as the Beneski Museum of Natural History, Amherst College). Admission is free and the dinosaur bones and fossils are pretty impressive for all ages.

• Jones Library, the public library in downtown Amherst. They have a wonderful children's book department that includes videos, passes to the local museums such as the Eric Carle Museum, and special programs for kids during particular months (like a concert series featuring international music groups, a Singing with your Baby program, and regular story telling every Thurs. at 10:30am). They also have a lot of toys and a train track that our son loves.

• The Norwottuck Rail Trail. This old railroad has been converted into miles and miles of beautiful paved trails running through Northampton, Hadley, Amherst and Belchertown. It's a State Park and is well-loved by residents and visitors.
Within 20-30 minutes of Birdsong B&B:
• Holyoke Children's Museum, Holyoke, MA. This is a hands on learning museum for kids complete with a climbing structure, a water-ways table to float boats down, a shadow room, an old ambulance kids can climb in and run the siren on, a kids' post office, puppet theater, TV studio and more. There's also a room for kids age 2 and under with a comfortable couch for nursing moms. This museum is also next door to a merry-go-round.

• Magic Wings, Deerfield, MA. This is truly a magical place filled with live butterflies, enchanting indoor gardens, some weird looking lizards that staff walk around with for kids to pet, and even bright blue dart frogs. Well worth the trip… enchanting place for all ages. Has picnic tables and a snackbar. Great gift shop!

• Look Park, Northampton, MA. This is a wonderful place for all ages. Kids love the train that goes around the park, the bumper boats, the sprinkler park, the picnic grounds, the lake, the playgrounds, and the small but still worthwhile children's zoo (which has deer, sheep, goats, peacocks, turkeys, hawks, bald eagles and a few other things). There are concerts in the park at the Pines Theater and great seasonal events like a "Haunted Train" at Halloween, Santa's workshop at Christmas, hay rides and a holiday light display, etc. We are members here and would be happy to tell you more about it. It is a terrific place.

• McCray's Farm, South Hadley, MA. This is a petting zoo with sheep, peacock, horses, cows, pigs and many ducks and geese. There's an ancient tractor that kids love to 'drive'. Homemade ice cream and other snack bar meals are available on site.

• Lupa Zoo, Ludlow, MA. This is a strange and wonderful place. One man with a vision and a lot of money decided to create a 'game park' which is like mini-zoo with camels, bears, bison, miniature horses, ostriches, emus, black swans, reindeer and, best of all, giraffe you can meet right up close and feed! (You can buy $5 bags of animal food and feed all the animals in the food shoots that go through the fences, but with the giraffe, you walk right up a flight of stairs to meet them and can drop peanuts and apples right in their gigantic mouths! It's a kick for adults too!)

• Bison Farm, Hadley, MA. This is a farm that has a pasture with a herd of bison. You can go visit the pasture and eat at a picnic table next to the fence. It's hit or miss though whether the bison will be right handy to watch. Sometimes they are far away from the visitor's fence and hardly visible. When they're up close though, it's neat to see them.

• Hampshire Bird Club, list of summer and fall events
These are the big attractions, but there are many others we'd be happy to talk to you about. We know you and your kids would have a great time in the Pioneer Valley!